Celebrating and rewarding science since 2007, the Kudos Awards aim to:
Recognise the contributions to science and celebrate the achievements of the region's top scientists
Excite young people about Science to support higher academic achievement and STEM career pathways
Help raise the profile of science in the community
Key opportunities to get involved
The Kudos Awards
Align your organisation to science, innovation, discovery and leading-edge technology
Waikato

contributes

25%

of

our

science

research

and

innovation

Waikato

has

the

highest

number

of

scientists

and

technicians

in

its

workforce

per

capita,

 

and

is

the only region where this is expected to rise
Waikato scientists feature in the top 1% of influential scientists worldwide

Hamilton and the Waikato are

recognised

as

an

incubator

for

creative

and

innovative

research

ideas

The

awards

have

allowed

many

scientists

to

continue

with

ground-breaking

projects,

buy tools

&

equipment

and

attend

international

conferences:

putting

Hamilton &

Waikato

on

the

world

stage

Science

is

an

exciting

and

creative

discipline

with

many

of

our

scientists

leading

in

their

fields of expertise both nationally and internationally

 

Our foundation sponsors and loyal partners are contributing to this valuable work:

 

Hamilton City Council, University of

Waikato,

Wintec,

King

St

Advertising,

Waikato

Regional

Council,

Waikato DHB

,

Hill Laboratories and Datamars
Words of support from our long standing partners
"The Kudos awards are a growing phenomenon and is encouraging science in the Waikato and in the greater New Zealand area as well."
– Roger Hill, Hill Laboratories
"I think the beauty of the Kudos Award is that it actually sneaks up and pats you on the back. Honestly, everyone that I know who has received one of these awards has been  absolutely taken by the process, the award, the evening, the whole thing and it leaves a lasting impression"
– Prof Craig Cary, Kudos Award Recipient
"We fully support innovation and excellence in science as  we see it as a crucial component in helping our region move forward."
– Vaughan Payne, Waikato Regional Council
"We love the Kudos Awards because there's so much innovation that goes into the various projects, along with passion for work and the desire to make a difference."
– Chris Williams, KingSt Advertising
The Kudos Science Trust will also consider bespoke sponsorships. Please contact us to discuss further.
"The Kudos Awards superbly highlight and celebrate the fantastic science that is undertaken in the Waikato region. Beyond the awards the support and promotion of science at all levels is tremendous. The Kudos team enable us to celebrate and be proud of the science that we undertake."
– Richard Spelman Chief Scientist, LIC
Science Spinners
Igniting curiosity and creative thinking in the next generation of STEM problem-solvers.
The Productivity Commission states we will not have the workforce needed for 80% of future jobs requiring STEM skills
The Commission also tells us that our current STEM education system produces persistently poor outcomes for some young people, especially children in socio-economically disadvantaged backgrounds such as Pasifika and Māori students
STEM teaches critical thinking and provides unique opportunities for teamwork – skills that are valuable in any field
Science Spinners aims to improve outcomes for high school students in STEM through FREE hands-on workshops in a fast-paced fun environment, led by Kudos scientists, STEM professionals and digi-tech experts
The first programmes focussed on addressing equity in STEM education for Pasifika, Māori and vulnerable students from the Waikato region. This has since expanded to include Toi Moana-Bay of Plenty and South Auckland
Established in 2016, Science Spinners is known as the original hands-on Science Programme for high school students and is now recognised as a hugely credible STEM programme working alongside reputable science organisations and STEM industry
The programme connects industry with education, working closely with high school science teachers, heads of faculty and principals to ensure it reaches the right students and remains relevant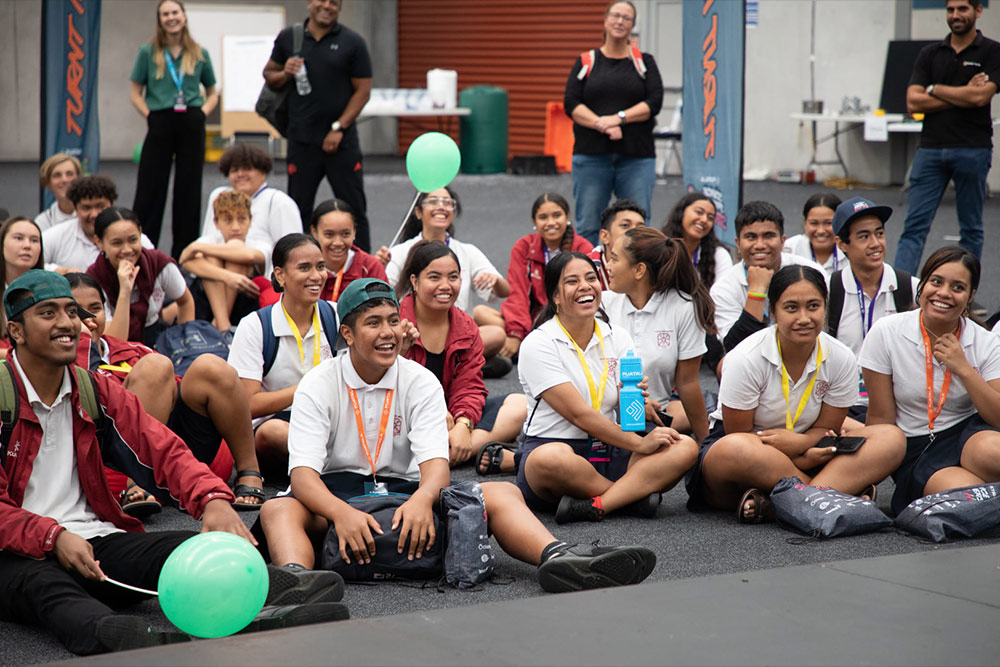 Words of support for Science Spinners
"Having an event like this makes us more aware of the job opportunities in STEM."
– N. Meikle Forest View High School
"Very exciting and hope to see this event again!"
K. Leathers, TKKM o Ruamata
"Science Spinners needs to continue what they're doing!"
"For some students, the workshops have been an absolute turning point for their future career pathways. We look forward to continuing our collaboration with the Kudos Awards Trust into the future."
Kamal Nair, Leader of Learning – Science, Te Puke High School
Science Spinners Sponsorship Packages – Annual
Contribution of $80K + GST
Primary branding rights on all promotional material & website
Primary display position at event
On all statements and releases given to media
VIP invitation to event
Open opportunity to engage with students and visit event
Contribution of $25K + GST
Logo on all promotional materials
Opportunity to display at event
VIP Invitation to event
Opportunity to engage with students and visit during event
Contribution of $2,000 + GST per school
Covers all transport costs for a school to attend
Cost for a relief teacher
Cost for an awesome nutritious lunch pack per student
Goody bag branded with your company logo
The Waikato, a powerhouse of science
Scientist Feature, ES Plastics – RespirationNZ
Want to take up one of these incredible opportunities?
We hope you will join us and look forward to hearing from you.